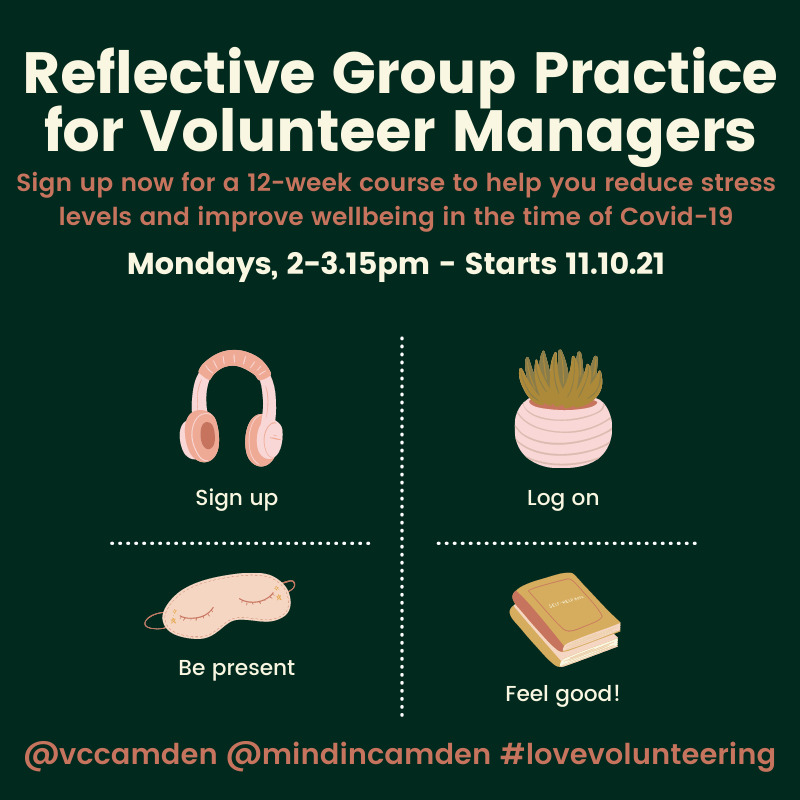 Join us ONLINE at our Reflective Group Practice for Camden Volunteer Managers
About this event
We have partnered with our friends at Mind in Camden to offer reflective practice groups for volunteer managers in Camden to help support staff and volunteers during the pandemic. (The sessions are funded by Camden Council and is free to attend. Yay!)
What is reflective practice in the context of wellbeing?
In the reflective practice groups, we are offering, you will be given time and space to consider your own work, and some of the emotional challenges this may bring for you. How you work – including the stories you hear, the events you witness, the decisions you make, and the context you are working within – will impact on your wellbeing. There will be an opportunity to explore this with the support of others and to hear the experience of colleagues, creating a space where the wellbeing of all group members is considered, and attended to.
Aims of the project:
Provide opportunities for staff to acknowledge challenges and receive support. In particular to acknowledge and understand the potential impact of vicarious trauma and working with people in distress.
Support staff in learning about different approaches to working with distress and maintaining personal wellbeing.
Support staff to understand mental health support systems and pathways.
Increase staff morale and wellbeing.
Support organisations to continue to have open discussions about staff and service user's mental health
We can offer some flexibility to work around the particular needs of specific groups. However, the basic offer we are proposing is:
Weekly zoom groups (12 sessions, with a break over Xmas/Hanukkah)
Each session will take place on Monday afternoons 2-3.15pm, starting on Monday 11th October
You should attend as many sessions as possible
The groups will usually be made up of between 4-8 members of frontline staff
Facilitated by Mind in Camden Staff
The group structure to be tailored to the needs of the specific participants
The facilitator Sven will contact all participants before the start date to make sure the sessions are as useful as possible
Book your place on Eventbrite here.
If you have any questions please contact Sven Ernst-Williams by email: sven.ernst-williams@candi.nhs.uk