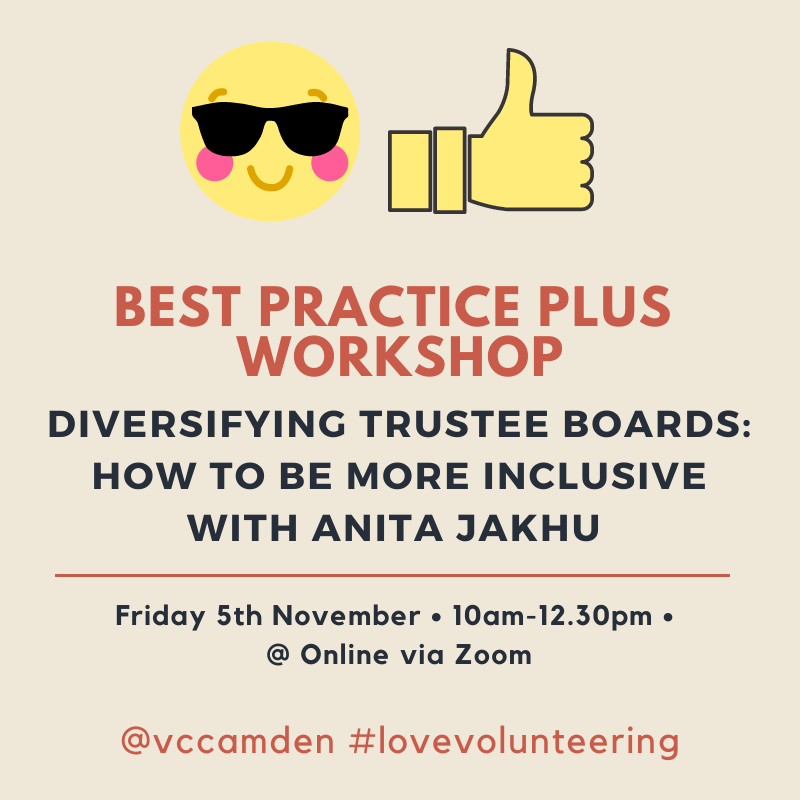 About this event
+ Beginners' / Intermediate level training for volunteer managers everywhere delivered on Zoom with Anita Jakhu +
Course outline for Diversifying Trustee Boards: How to be More Inclusive
Good governance is fundamental to organisational success where trustees and members fulfil a shared vision by working towards achieving common aims and goals. A significant part of this success is to ensure boards reflect the communities they serve, offer different ideas and perspectives by providing diverse voices round the table. Addressing equality, diversity and inclusion helps a board to make better decisions. This requires commitment, but it means that a charity is more likely to stay relevant to those it serves and to deliver its public benefit.
Much emphasis has been placed on the diverse make-up of boards and the need to ensure selection, recruitment and retention processes are effective as well as fair and equitable. This course will support boards to increase diversity by identifying and addressing barriers and challenges inhibiting diverse communities joining them. It will examine the main tenets of inclusive culture, practice, and behaviours as an integral part of good governance.
We will explore good practice guidance via case studies, relevant data and the charity governance code. All learning will translate to tangible actions that can be taken to diversify boards, promote equality, diversity and inclusion and embed good practice.
Outcomes
By the end of the course you will:
understand the importance and benefits of a diverse board
understand inclusive boardroom culture, practices and behaviours
be able to identify and address barriers to diversifying boards
explore best practice in recruitment and selection of members
how to embed good practice: widening access and participation
This course is relevant to:
Anyone who's new to governance and trusteeship or existing trustees, committee members and senior staff who would benefit from a refresher course. This course could also form part of an induction for new trustees and members.
At the end of the session, each participant will be asked to complete an individual action plan. It will consolidate learning and outline individual and collective steps to achieve a more inclusive working environment. This will be provided to each participant which they will take away and implement in their individual contexts.
Training is highly interactive, engaging and fast paced. It will use a combination of facilitator presentation, group discussions, visual aids, case studies and group exercises.
Timetable:
9.45-10am Arrivals (click on the Zoom link in good time and make sure you're all ready to go at 10am!)
10am-12.30pm 'Diversifying Trustee Boards' Workshop with Anita Jakhu (Delivered via Zoom)
>> This is BEGINNERS' / INTERMEDIATE level training.
This training is delivered by Anita Jakhu.
Anita is an experienced consultant with a proven history of working in the Equality & Inclusion field for over 25 years, with a particular specialism in unconscious bias. She has worked with senior management teams, department leads, board members and front line staff across all sectors e.g. Brent local authority, Haringey Education Partnership, MET police, Collage Arts, Metropolitan housing, The Guardian, Women's Aid, Southwark Carers, Education authorities, crime and community safety boards and youth organisations. Much of her work has focused on supporting organisations to make positive changes on strategic levels, reviewing processes and procedures as well as on operational levels and contributing to creating more positive workplace culture . She has developed training programmes covering unconscious bias, equality & inclusion, religious and cultural beliefs, forced marriages, effective communication, community safety, workplace culture, domestic abuse to name but a few.'
> We have a few free places available for Camden non-profits with a turnover of less than £150K. Get in touch with Shafia by email if this applies to your organisation. (Many thanks to our funder Camden Council for making this possible.)
Book your place on Eventbrite here.
Any questions? Get in touch with our Best Practice Manager Shafia by email.
We look forward to seeing you on the day! 🙂