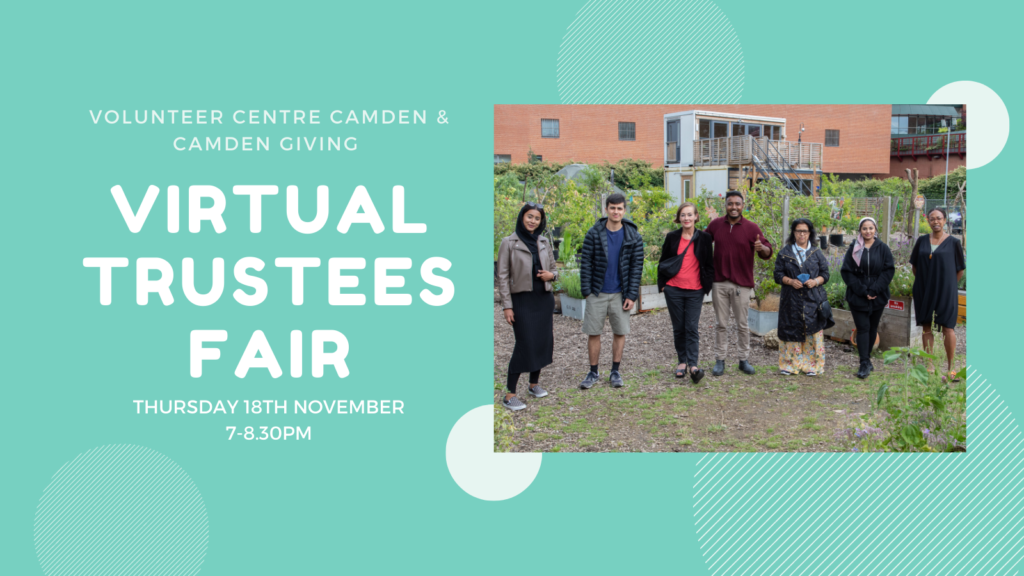 Please find below the details of all ten organisations recruiting trustees at the Camden Trustee Recruitment Fair 2021: 
The organisation recruiting trustees at this event are:
West Hampstead Women's Centre
The Winch
Somers Town Community Association
Helping Hand
icandance
Sidings Community Centre
Kentish Town City Farm
Volunteer Centre Camden
Homestart Camden and Islington
Full details are below:
West Hampstead Women's Centre
We are a lively community hub and safe space supporting a diverse range of women to access social, well-being and support services that they might otherwise struggle to access, we bring communities together and actively encourage social cohesion and integration.
Our mission is to welcome women from diverse communities and support all women regardless of cultural and economic backgrounds, beliefs, ability, sexual orientation, or age.  We aim to improve the quality of the lives of the women who use our services and provide a supportive space for women, which gives them the opportunity to develop their potential and participate in the community.  We do this by offering activities and services that support women at a practical as well as an emotional level.  Many of the centre's activities also promote communication, exchange of ideas, self-help and understanding across communities and generational boundaries.
Volunteer role title: Trustee 
We are looking for new Trustees to join our Board and help support and develop our charity, especially if you are passionate, committed and dedicated to making a difference for women in Camden and supporting our cause.  
As a Trustee you will have the opportunity to express your ideas and to be part of the decision-making process in a dedicated women's organisation.  Our Trustees hold overall responsibility for the direction, policies, finances and staffing of the charity, supporting West Hampstead Women's Centre to grow and pursue its mission.
Ideally candidates will live or work in Camden and be able to demonstrate up to date knowledge of the borough.  We welcome candidates with lived experience, and if you have worked with marginalised sections of the community and organisations in the voluntary sector that will also be helpful.  It is a bonus if you have experience in either Strategic Planning, Human Resources, Law, Fundraising, or the Third Sector and Partnerships.  
What you get out of being a Trustee of WHWC
Make a positive difference to marginalised women's lives

Promote the interests of women in Camden

Work together with other women in a multicultural charity 

Help the Centre to grow and thrive

The opportunity to develop skills and experience in a range of areas including governance, planning, fundraising, finance, human resources, and equal opportunities

Increase your knowledge and experience of the charitable sector

The opportunity to participate in centre events, outings, celebrations, and parties

To be reimbursed for your out-of-pocket travel, postage, lunch, and telephone expenses
WHWC is committed to a diverse Trustee board representing the background, culture, and experience of our users, and we welcome any interested women to apply.
This role is open to women only in accordance with the Equality Act 2010.
To apply for volunteering with West Hampstead Women's Centre please contact susan@whwc.org.uk.
The Winch
Introduction to the Winch
The Winch was founded in 1973, when local residents repurposed a derelict pub as a youth and community centre. We now serve over 2,000 children, young people and families a year.
Our mission is to help every child succeed regardless of their circumstances by giving them the opportunity and support the need.
The Opportunity
We are looking for up to three trustees, one of which will be the Chair of the Trustee Board.
We are looking for volunteers who are
Committed to our mission and share our values, and who have

Property and legal skills

Skills and experience of providing transformative services for children

And have a personal connection to our neighbourhood or the issues we tackle.
If you are applying for the Chair role, you should have experience of charity governance, be confident in budgeting and be skilled in leading strategic work.
We are actively looking for trustees who will bring a diversity of background, experience and thought to our work. We particularly welcome applications from volunteers from black and racially minoritised communities.
Trustees will have a full induction and access to a buddy and ongoing training. You'll get to witness first-hand the difference we make in our local community.
Why not make a difference with the Winch?
The Winch is a unique organisation, committed to changing the systems which hold back our community. 
We provide a cradle to career pipeline of opportunity for children and families, including support for new parents, after school clubs and youth services.  We run the Belsize Community Library and host several influential initiatives, including the radical youth organising project, Take Back the Power, and North Camden Zone, an estates based initiative committed to shifting power into the hands of local residents.
To apply for volunteering with The Winch contact Rashid Chief Executive of The Winch by email: rashid@thewinch.org or phone 07713984748
Somers Town Community Association
Our Mission 
Somers Town Community Association is a Charity dedicated to providing cohesive, inclusive and innovative services. We strongly support empowering our community to create and spearhead an active and responsive organisation, this organisation aims to produce a meaningful and positive influence at every level of people's lives and we value community in all its diversity and work vigorously to pursue these values. 
     Enabling better awareness of and access to health and wellbeing for everyone in the community

 

     Reducing inequalities around access to education, training and employment for everyone in the community 

 

     Building resilience and advocacy: empowering everyone in the community to access knowledge and be better equipped to help themselves

 
STCA's values identify what is most important to the organisation in the way it delivers the vision, mission and strategic aims. STCA aims to be:-
Challenging and committed, working in a way that reflects both professionalism and a caring attitude

 

Empowering and enabling, working in a way that is collaborative and community-led

 

Credible and trustworthy, working in a way that demonstrates transparency, inclusivity and accessibility

 
We presently have two vacancies for new trustees to join the board and we are looking for candidates that first and foremost will commit to attending the four quarterly meetings held a year, ensuring that they have read all of the documents for the meetings so that the charity is able to ensure compliance with its legal obligations. 
We are also looking for candidates that are passionate, committed and want to make a difference if this is you then please email Mrs S Elie MBE Executive Director on sarah@somerstown.org.uk  
Helping Hand
Coming soon
icandance
icandance celebrates children and young people with disabilities, enabling them to thrive through dance. We offer a creative therapeutic community for families with lived experience of disability catering for children and young people aged 4 to 25 years old with a range of complex learning, physical, social, and emotional difficulties. Our inclusive dance community celebrates each dancer and values their contribution to society. 
Our specialist approach, which draws from dance movement psychotherapy, creative dance, and education techniques, is delivered by a highly skilled and passionate team who build meaningful relationships with our disabled dancers and their families. Our goals are:
Nurturing creativity, learning and wellbeing:

Offering a space where disabled

individuals are truly seen; can connect and express themselves; while developing long-term, life-enhancing skills through the creative medium of dance and performance. 

Build support and community:

Ensuring families feel part of a community which enhances their understanding and skills to better support their child.

Change perspectives:

Celebrating the lives and abilities of disabled children and young people through performances and community events which inspire and inform professionals and the wider community and create unity across differences. 
Our dancers express themselves creatively, enhancing their confidence as we spotlight their abilities rather than their limitations. 
Volunteer position: Trustee role
We are currently seeking a trustee who is passionate about building a creative inclusive community. We would value a Camden community member that can support us in building relationships within the local community and welcome any applicants who identify as disabled.  
icandance is a small organisation (£200 000 yearly budget) with a big heart and ambitious goals. We are looking for a trustee that is passionate about the arts/dance, believes in inclusivity and is informed by good practice when working to nurture creativity, learning and wellbeing in diverse communities.  
As a trustee you will become a community builder whose skills will have a direct impact on guiding the vision of the organisation. We need a trustee willing to hold the governance of the role, such as thoughtful financial insight, good management, and an understanding of the charity sector alongside building relationships with a dedicated team and the families whom we serve.  
Your input will directly impact on the lives of children and young people with disabilities and their families as icandance continues to offer them support and opportunities for creative engage. 
Training is available for trustees who need guidance in bringing their skills to support our community. The Trustee board works closely with the Founder and CEO to lead the vision of the charity. To find out more watch this short clip https://youtu.be/xcJOKdflwKk  or visit www.icandance.org.uk or @icandanceuk on Instagram, twitter, and Facebook. 
Sidings Community Centre:
Sidings Community Centre is a well-established community hub, open since 1983, working with and responding to the needs of the community in the wider neighbourhood of West Hampstead and North Kilburn. Whilst the COVID pandemic has obviously impacted on our full range of services, many of these have re-opened and we have added some new ones started up in response to the pandemic.  Our key  services areas include: term-time nursery, holiday play service, youth project, adult education and digital skills classes, sports and well-being (mainly for older people) and the new  West Hampstead Community Food Hub.  We provide a venue for local community and residents groups to meet and come together, and a base for Camden based initiatives.
We are funded by Camden Council as one of their Strategic Partners, plus a variety of Trusts to support specific service areas.  We act in partnership with a range of providers to help respond to the needs of the community.  We are supported by a dedicated staff team and Board of Trustees, and together are in the process of creating a new Business Plan to reset and rebuild in the wake of the pandemic. We have some exciting projects to plan  which include S106 -funded building improvements and also the creation of a new small community garden next to the centre's car park.
TRUSTEE VACANCIES: We are looking for interested people to join our small but committed Board of Trustees to help strengthen the skill set needed to take us forward.  We are particularly keen to recruit a new Treasurer, and others who can offer professional skills such as fundraising, HR or marketing, or help support key areas which they might have a particular interest in.
To apply for volunteering with Sidings Community Centre contact Sue Measures, Centre Manager. Her email address is manager@sidings.org.uk
Or get in touch by phone … Main office Number is 020-7625-6260/Mobile is 07483378339 
Kentish Town City Farm
We are a farm at the heart of the city, encouraging local people to care for the land, animals and each other. For almost 50 years our charity has supported generations of families in Gospel Oak, providing them a vital green space in a densely populated urban area. Projects focus on how food gets from farm to fork – promoting nutrition, animal welfare and environmental learning. The farm is free to visit (with regular activities for early years and older people, young farmers and holiday clubs) giving Londoners a unique opportunity to touch eggs that are still warm, enjoy the natural smells of the countryside and plant things that grow. 
The board of Trustees have overall responsibility for the charity's governance. This includes making sure we plan work in line with our charitable purpose and spend money in the way we are supposed to. We regularly review the board to identify any gaps in expertise. In this round of recruitment, we are particularly interested in finding individuals with professional skills and experience in HR. 
New trustees will join a friendly, committed team and be part of a small charity making a real difference to the lives of those in the local community. Board meetings are 4 times a year with an annual AGM. Trustees contribute to working groups where relevant. Trustees are encouraged to visit the farm regularly.
Purpose of the role 
Provide advice and guidance to the Board and Director to ensure the highest standards of governance in all polices and practice related to all HR matters, meeting legal requirements and best practice. This will include working closely with the Director to review and recommend current and future strategic resourcing, training, and development budgets, providing guidance and support to develop working practices related to employee relations (including Director), recruitment, retention, performance and reward. The postholder must stay up to date with changes to legislation on HR and keep the board informed about its HR duties and responsibilities. They will lead on trustee recruitment and where required they would sit on recruitment panels, promoting best practice in Equality Diversity and Inclusion.
Person Specification 
Experience working in a senior HR role

Chartered Institute of Personnel and Development qualification or equivalent

good current knowledge of employment law, policy and practice and ability to keep up to date with developments in HR

the highest standards of personal integrity and professionalism

the ability to build and develop strong, supporting working relationships with trustees and the Director

Legal expertise is also desirable to ensure that Kentish Town City Farm remains legally compliant and to foster a better understanding within the Board of the legal aspects of the organisation.
Kentish Town City Farm is committed to being more representative of the communities we serve at board level. We would therefore particularly welcome applications from candidates from a diverse range of backgrounds and experiences.
To apply for volunteering with Kentish Town City Farm, email your CV and expression of interest to Chair@ktcityfarm.org.uk 
Volunteer Centre Camden
We are the lead volunteering infrastructure organisation for the borough in Camden and we give support and guidance to people who want to volunteer as well as people who work with volunteers. And with that in mind, we also host a programme of events for volunteers and volunteer managers, such as the Trustee Recruitment Fair tonight!
Our Objectives
To offer a brokerage service that empowers people who are looking to volunteer tofind a role that interests them, and to help promote organisations' volunteering opportunities.
To excite and inform people in Camden about the potential of volunteering to benet both themselves and their communities.
To promote the development of good practice in relation to the involvement of volunteers among volunteer-involving organisations.
To create new volunteering opportunities in Camden. To comment and campaign on national and local issues that affect volunteering or volunteers.
To take an active role in the strategic development of volunteering.
To improve quality of life in Camden through active citizenship.
To increase volunteering in Camden.
To improve the accessibility of volunteering to all in Camden.
To increase the quality of volunteer involvement in Camden for the benefit of volunteers, community organisations and the wider community.
Our trustee roles: 
Volunteer Centre Camden is looking for up to 2-3 Trustees to join its board. Anyone who joins our board must be passionate about volunteering and how it can support and empower communities. In addition, we are looking for people who have any of the following skills and experience:
Finance/Accounting
Marketing and Communications
Strategy
Business Development
HR
Law
Lives in or has strong understanding of Camden
Corporate background
To apply for volunteering with Volunteer Centre Camden contact our CEO Dominic by email.
Homestart Camden & Islington
Mission: To help parents with vulnerable young children in Camden and Islington prevent and cope with issues and crisis through provision of non-judgemental practical and emotional support on a one-to-one basis from trained volunteers.
Trustee Volunteering Roles 
1.
We are looking for a new trustee with experience of health and social care, ideally also with an understanding of perinatal mental health and/or therapeutic practices.
Following the challenges of the Covid-19 pandemic, we are increasing our capacity to support families who have issues with perinatal mental health, isolation, early years' development and recovery through crisis.
The new trustee would help us to embed this work into our organisation's culture, and further develop the service we offer in these areas.  
2.
We are also looking for a new trustee with a background in Human Relations. 
Their contribution to the Trustee Board could include advising on employee and volunteer relations, performance and reward, engagement and change management.
The new trustee will ideally have professional experience in HR with skills in personnel management, organisational change and developing people.
Why would someone volunteer?
Primarily because they want the opportunity to give something back to the local community and play a key role in helping parents with vulnerable young children prevent and cope with issues and crisis.
They will sit on a Board of Trustees, whose activities are varied and challenging, but also hugely rewarding, with many opportunities for personal development. Without volunteer trustees our charity could not exist, and parents and children in Camden and Islington would not get the support they need.
To apply for volunteering with Homestart Camden & Islington contact … 
Thanks to all for your interest in volunteering in Camden!