Everyone is welcome at the Charity Meetup London Group, friendly networking and skills sharing event.
About this Event
Feel Connected ~ Get & Give Support ~ Share Ideas
Date: Thurs 16 July 2020 from 10am-12pm
Venue: Online via Zoom
Host: Hayley Watts
Tickets: £16.76
Topic: Reimagining Volunteer Engagement
Join in and to explore how to attract, engage, retain volunteers in new ways. Attendees will also discuss howto innovate and adapt to the new volunteering landscape during the pandemic.

Talks:
1. Strategic Perspective – Shaun Delaney
– Different forms of volunteering during the pandemic
– What we have started to learn
– The role of volunteer managers and infrastructure
2. Flexible Opportunities – engaging volunteers internationally and designing microvolunteering – Catherine Weston
– Discover how to involve people so that they see the value in supporting you – whether financially or in any way that adds to the work that you do
– Understanding volunteers motivation – reasons they want to help and how to build long term engagement
3. Digital Volunteering – Victoria York
– How to build on this learning for future engagement
– The talk will give you concrete tips you can take away from these learnings to help you optimise and reimagine volunteer engagement in a post-coronavirus world
4. Diversity and Inclusion in Volunteering – Salma Perveen
– Reflections on racism and intersectionality in the charity sector from my lived and professional experience
– Thoughts on how voluntary organisations can be more inclusive using an anti-racist approach
Speakers:
Salma Perveen – St John Ambulance
Salma is a freelancer, speaker and activist for equality, diversity and inclusion. She currently works within the voluntary sector as a Programme and Equality, Diversity and Inclusion Lead at St John Ambulance. Her areas of interest include intersectionality across all aspects of inclusion with a particular focus on race, gender, class, mental health and disability. She has a degree in international relations and development studies and is currently completing her Masters in humanitarian affairs. She is passionate about young people, positive social action and sustainable development.
Shaun Delaney – Volunteering Development Manager, NCVO
Shaun (he, him) heads up volunteering development at NCVO, overseeing strategy for the development of volunteering and volunteer management good practice in England. He is currently seconded to the government (DCMS) until December 2020 to work on volunteering policy in response to the coronavirus pandemic.
He joined NCVO following five years as head of volunteering at Samaritans, leading the involvement of 20,000 volunteers across the UK and Republic of Ireland. Before that he was with Volunteer Centre Greenwich supporting 300+ member organising to involve volunteers as well as working on and Olympic/Paralympic related programmes. Away from work, Shaun is currently a vice chair of London Plus and a director of the Association of Volunteer Managers.
Catherine Weston – Director of Communications and Brand at SOS Children's Villages UK
Catherine has worked in charity communications for more than ten years, including at Amnesty International and Comic Relief. She is passionate about refugee resettlement and is a Trustee at RESET, she is a member of the Welcome Committee, a community group that resettled an Iraqi refugee family of 6 into London in November 2018.
Victoria York – Volunteer & Campaign Manager at Education and Employers Charity
Victoria York works at Education and Employers, a charity which connects volunteers from the world of work with young people to broaden their horizons. Victoria is the charity's first Volunteer & Campaigns Manager and she leads on the volunteer engagement, working across the charity to develop and support the volunteer journey of 30,000+ volunteers. Victoria is also responsible for delivering impactful thematic campaigns which raise awareness of the charities' multiple programmes with a focus on recruiting volunteers. Previously Victoria coordinated showcase events for the charity, working across the UK with multiple employers, schools and volunteers to create exciting employer engagement experiences. She also led Education and Employers 10th anniversary celebrations. Prior to joining Education and Employers, Victoria worked in social media management and content creation in the private sector.

Host:
Hayley Watts –
Hayley worked in the charity sector for 16 years, in local and national charities and that included a stint as CEO of a small charity for 9 nine years. Hayley now works as a coach and facilitator, specialising in supporting those in management roles within the voluntary sector. She also works with a global training company as a Productivity Ninja and this role involves working with organisations in all sectors, including large multinational corporates, statutory organisations and charities.
She is passionate about networking and the importance of sharing ideas and collaborating. Her work in volunteering infrastructure saw her develop sharing of staff, projects and ideas in a number of different ways.
In the voluntary sector, Hayley's main interests have been volunteer management and development of staff. She is a strong project manager with great leadership skills. Hayley is especially interested in building teams, developing people and developing organisational values and people that live and breathe those values.
As a trainer and facilitator Hayley is interested in helping organisations adapt to new challenges, develop values and use them.
Hayley currently supports a number of voluntary sector managers through coaching, and is keen to do more work to support charities of all shapes and sizes. Outside of the working world, Hayley has volunteered as a trustee for several charities and is currently the Chair of Governors at a local primary school. She has also been a befriending volunteer, provided emotional support in a number of organisations and taken responsibility for volunteer recruitment, marketing and fundraising on a voluntary basis as well as using these skills in paid work.
Outside of all that, Hayley is busy training a new puppy, talking long walks and enjoys the occasional yoga class.

Who will you meet at the Charity Meetup?
A diverse network of connections is essential for both people and organisations in the non-profit sector. The purpose of the Charity Meetup is to help foster and grow these connections.
The Charity Meetup is a friendly event full of skills sharing, networking and fun, and all are welcome. The event was created by Dawn Newton, after noticing that there were lots of events but nothing which supported participants to network in a practical way through facilitated activities. Read about our past events and register to receive updates.
FAQs
How can I contact the organiser with any questions?
Speak to organiser Dawn Newton dawn@morellomarketing.com
What's the refund policy?
Refunds can be requested with at least 24hrs of the event start date.
Do I have to bring my printed ticket to the event?
No, you will be on the sign in sheet which you will be ticked off on upon arrival.
Photos by: Marcus Jamieson-Pond
www.jampondphotography.com
Please share this event with your contacts.
Find out more about the Charity Meetup events: Charity Meetup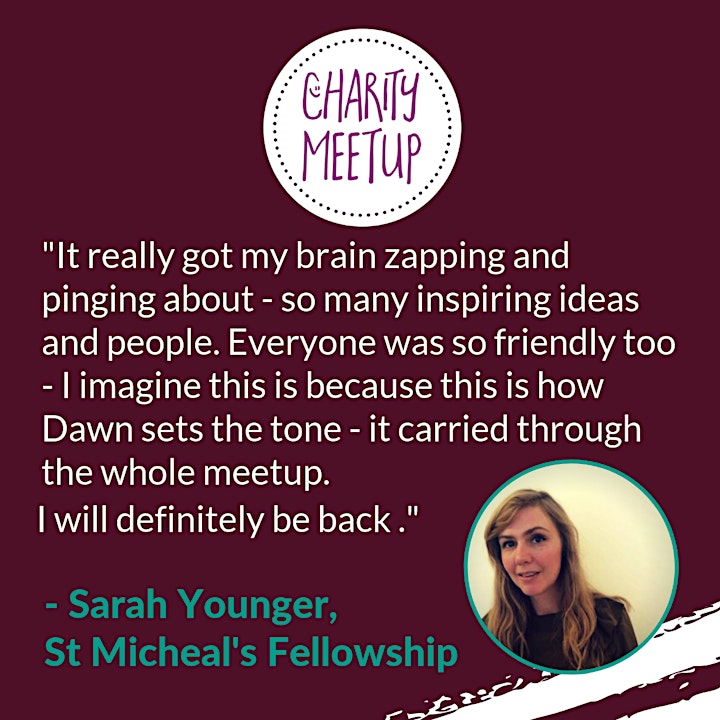 For full details and to sign up go to Eventbrite now!